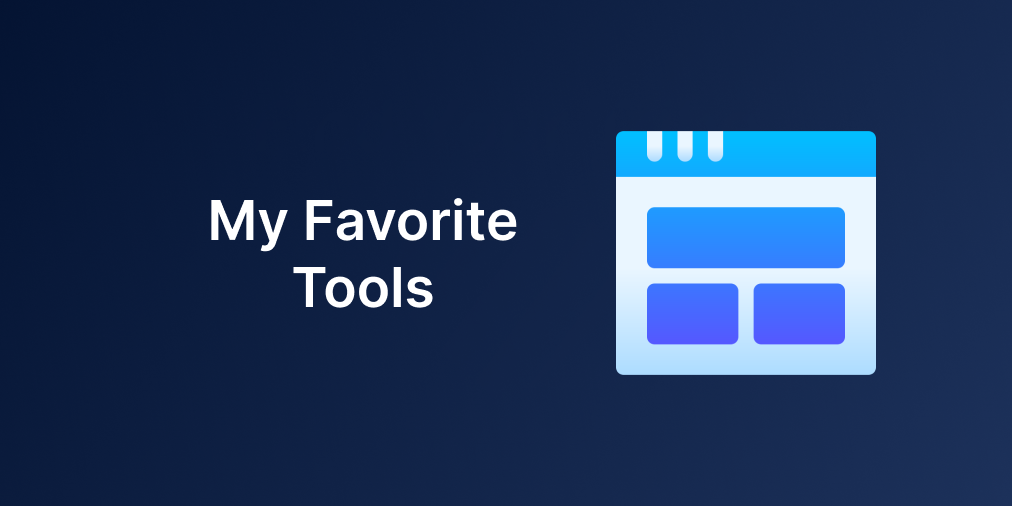 Recommended Resources
I get asked about my tool stack a lot, so I'm sharing the tools & resources I use!
I frequently get asked what I use to run my side projects (which include this site, BrainPint and Newsletter Operating System) so I'm sharing the tools & resources I use in this post.

I hope this collection will be useful to you. Many of these are referral links, which helps support the work I do!
Websites
Namecheap - Best place to purchase a domain. Has an intuitive, easy-to-navigate dashboard. Includes free WHOIS protection and excellent customer support. All of my domains are held on Namecheap, and most cost <$10/year.
Carrd - Easy to use single-page website builder that I used to build the landing page for BrainPint & Newsletter OS. Plans are generous (from $19/year for multiple sites) and include hosting.
Digital Ocean - I use Digital Ocean's droplet to host my Ghost blog. It costs me $5/month. Get $100 credit, to be used within 60 days through my link.
Writing
MailerLite - My email service provider that I use to send issues of BrainPint weekly. Has a generous free plan (up to 1,000 subscribers) and a user-friendly drag & drop editor. It also supports segmentation & workflows. I am paying $15/month for a plan that lets me send emails to up to 2,500 subscribers.
Notion - My personal wiki and my second brain. I use it to run my newsletter via Newsletter OS, write down my thoughts, track some of my purchases and clip interesting articles. Costs me $4/month for the Personal pro plan.
Marketing
Copy.ai - Amazing tool for marketers & founders. Ever feel stumped when you're trying to write copy? Enter a few keywords and generate marketing copy in a few seconds with this GPT-3 powered tool. Helps create ad, website & sales copy, social media captions and more. The team keeps shipping new features every week.
Switchy - I use this to shorten long links in my emails & websites, and set meta images. It's a great tool that can be used to track the success of your marketing campaigns & help you retarget customers. On lifetime deal now at AppSumo via this link.
Research & Reading
Mailbrew - This might be one of the products I'm most obsessed with now. Mailbrew is a service to follow your favorite websites, creators and writers—and unplug from feeds. It gathers content from a range of sources (RSS, Twitter, Emails, Readwise etc) and delivers it to you daily/weekly at a time of your choice. It's a massive time saver & game changer for my curation workflow. I run a free automated newsletter about Saas Investing off Mailbrew.
Social Media
Typefully - A distraction-free way to draft Twitter threads, in a beautiful & clean interface. For free. Can be saved to mobile & Macbook as a PWA for an app-like feel.
BrandBird - Easy way to upload screenshots, jazz them up and make them Twitter friendly.
Automation
Integromat - My superglue between sites, apps and systems. Helps me automate the boring stuff, so I don't have to. ($9/month) I find it to be a powerful and more affordable alternative to Zapier.
Airtable - Database on steroids, with automation capabilities. I use this to categorize & collaborate on data. Generous free plan. You can even create sites using Airtable by connecting to Pory.io or Softr.io.
Creation
Gumroad - I use Gumroad to create, buy and sell digital products. They take 10% on the sale. Gumroad helps handle consumer taxes, chargeback disputes, hosts & delivers digital product(s), and allows creators to build email workflows.
Buy Me A Coffee - Helps creators get support from their audiences, with Stripe and PayPal integrations.
Glide - I love creating mobile apps using Glide. All you need is data that's stored in a Google sheet, some images that you can obtain via Unsplash or Pexels, and you're set.
Cleanshot X - Clean, sleek tool that helps create screenshots. I never knew I needed a screenshot tool till I got this. It's gorgeous and so easy to use.
Chrome Extensions
Bubbles - A collaborative tool that allows you to take screenshots / screen recordings and leave comments. Handy when reviewing landing pages, or reporting bugs.
Go Full Page - Take full-page screenshots and save to PDF, PNG or JPG. Free.
WhatFont - Like a font and want to figure out what it is? Use this free extension.
CSS Peeper - Figure out what colors, fonts and more are being used on a page.
Project Management
SavvyCal - I use to manage my calendar and get people to book calls with me
World Time Buddy - Working between time zones? Save awkward spreadsheet calculations or counting with your fingers by using this. Every Time Zone is an alternative.
Trello - I use this to manage projects, kanban style. Note that it's now possible to use Notion to do this too.
Todoist - Clean, easy to use task manager. Get your to-do list out of your head and onto this app.
Design
Figma - Collaborative, easy to use design tool. The community regularly publishes free resources, plugins, icons and UI kits as well.
Canva - Create beautiful designs and documents with Canva. Freemium, with a generous free plan.
Others
I also made an app that contains some of the tools that I love. It includes a broader range of tools. Check it out at Supercharged Toolkit (best viewed on mobile). Here's a list of cool tools crowdsourced from Twitter.
---