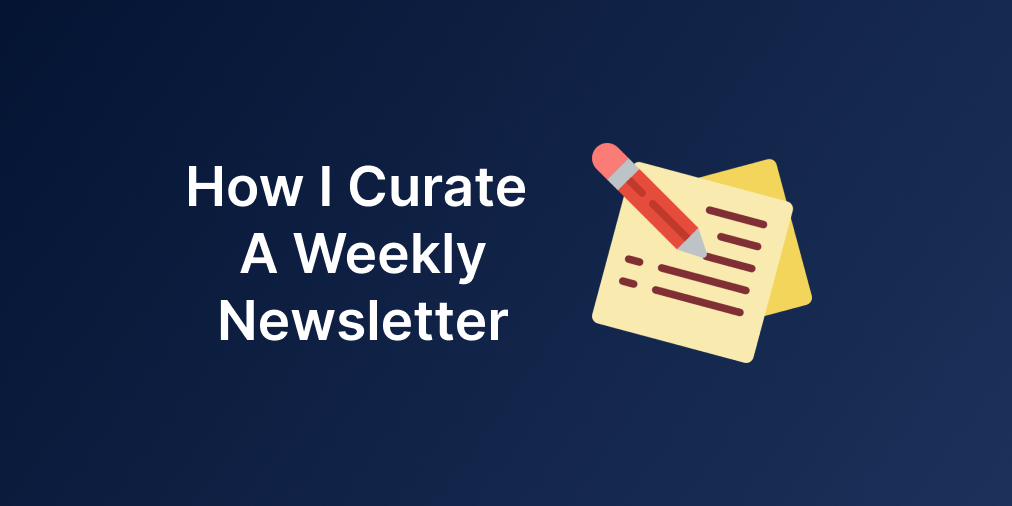 How I Curate A Weekly Newsletter
I often get asked how I curate my newsletter every week. In this post I'll share about the sources and tools I use to pick the best links and bring it all together.
I curate BrainPint, a newsletter for the curious. It's a medley-style newsletter covering personal growth tips, interesting digital tools, business & tech content and even random, rabbit hole internet finds.

I always aim to find signal within the noise, which means only 5-10% of the best content I discover each week finds its way into my newsletter. That's ~15 quality links.
I often get asked how I curate my newsletter every week.
In this post I'll give you a look behind the curtains. I'll share about the sources and tools I use to pick the best links and bring it all together.
Sources
I read widely. Every week I go through around ~150 articles and 60+ newsletters. I also often find myself wandering down Internet rabbit holes. This means that I never run out of sources to curate from.

Having quality sources to draw content from is so important. If you're reading garbage, you won't have any meaningful content to curate from. Imagine a newsletter full of Buzzfeed articles?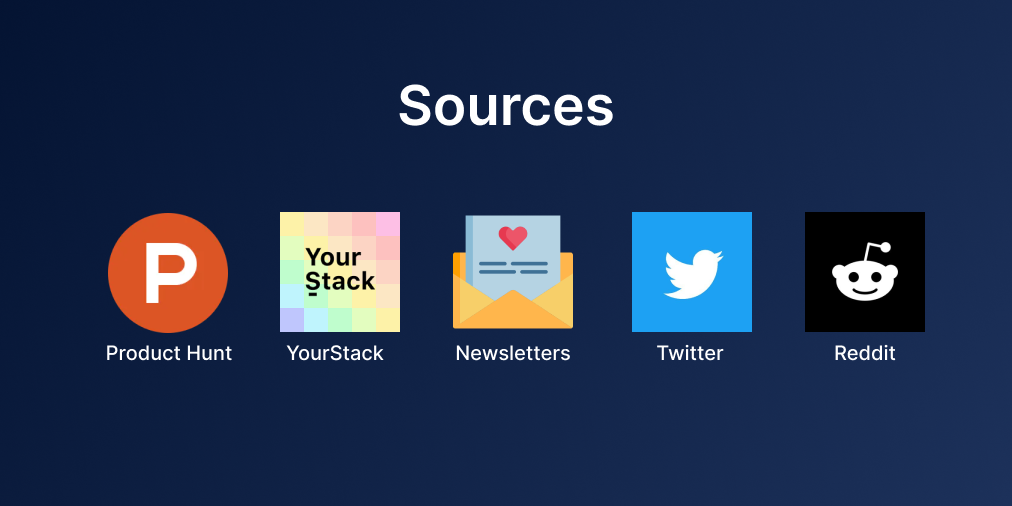 Newsletters
I'm a huge fan of newsletters, which are my go-to source of information. I love a good mix of curated newsletters & ones that contain original writing. As a writer/curator myself, I respect the hard work that goes into each issue.
I'm subscribed to more than 60+ newsletters in different niches and read most of them. If you're wondering how to curate content for your niche, I recommend subscribing to industry publications.

It's hard to follow so many newsletters if you're strapped for time. However, I have just the suggestion to keep tabs on multiple things without going bonkers in the tools section below.
Product Hunt
Product Hunt is where you can find interesting new digital product launches daily. I love checking out the top few products each day. The upvote functionality means that quality products find their way to the top of the page.

I also visit BetaList to learn about new startups & what they're creating.
Subreddits
Reddit users frequently unearth treasures that are again brought to the top of subreddits through upvotes.

My favorite subreddits include r/todayilearned, r/AskReddit, r/InternetIsBeautiful, r/Quotes.
Social Media
I trawl Twitter a lot and bookmark the best ideas and links using Twitter's native bookmark system, which admittedly isn't the best experience. I'm quite protective of who I follow on Twitter, as I believe in curating the feed for quality inputs.

Ideas on who to follow on Twitter:
- Key thought leaders in the industry
- CEOs
- Journalists
- Companies

P.S. If you have discovered a better way to bookmark tweets (without having to tag accounts like how Readwise users do), please reach out.
Communities
I'm active in a number of communities (free and paid), like IndieHackers, Ness Labs & Trends Pro. Members in these communities often share interesting articles and tools which I happily bookmark.

Some other communities you can follow include Hacker News & Sparktoro Trending.
Blogs
I follow a set of blogs I'm interested in via RSS (through Mailbrew). If you're writing a newsletter with a clearly defined niche, follow prominent blogs in your industry to keep yourself updated on the latest developments.
Friends
My friends send me interesting reads or resources via email, Twitter DM or Telegram, which I do include in my newsletter as well.
Tools
At this point you must be thinking I'm a crazy person. I promise you that there is some sort of method to this madness. Here's where tools come in.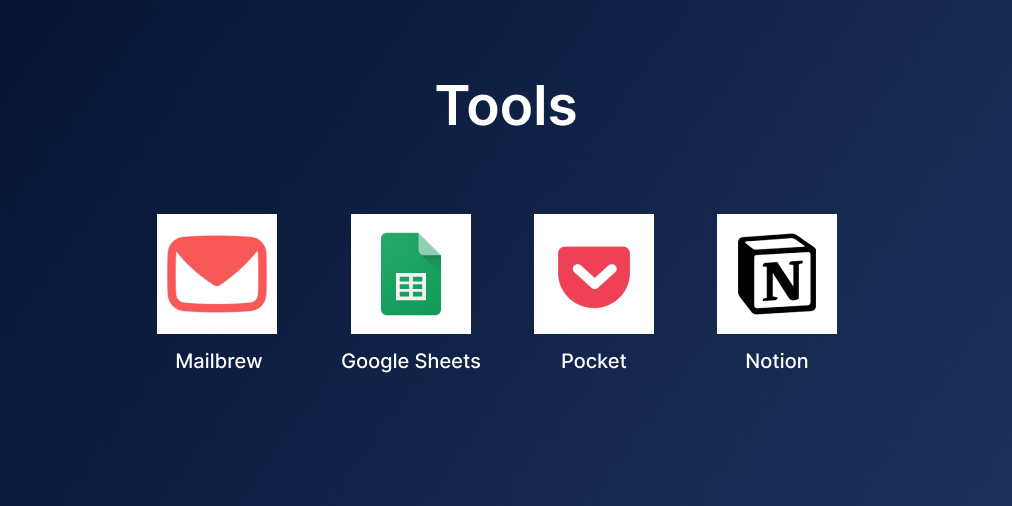 The great thing about living in 2020 is that we have the help of technology to simplify curation processes.
Mailbrew
I use Mailbrew to pull information from a myriad of sources. It cuts through the noise and distractions of the Internet and delivers me the best content, wrapped in a daily digest. Yeah, I can't really be spending hours trawling Reddit. Mailbrew's my newly-found curation sidekick!
How does it work?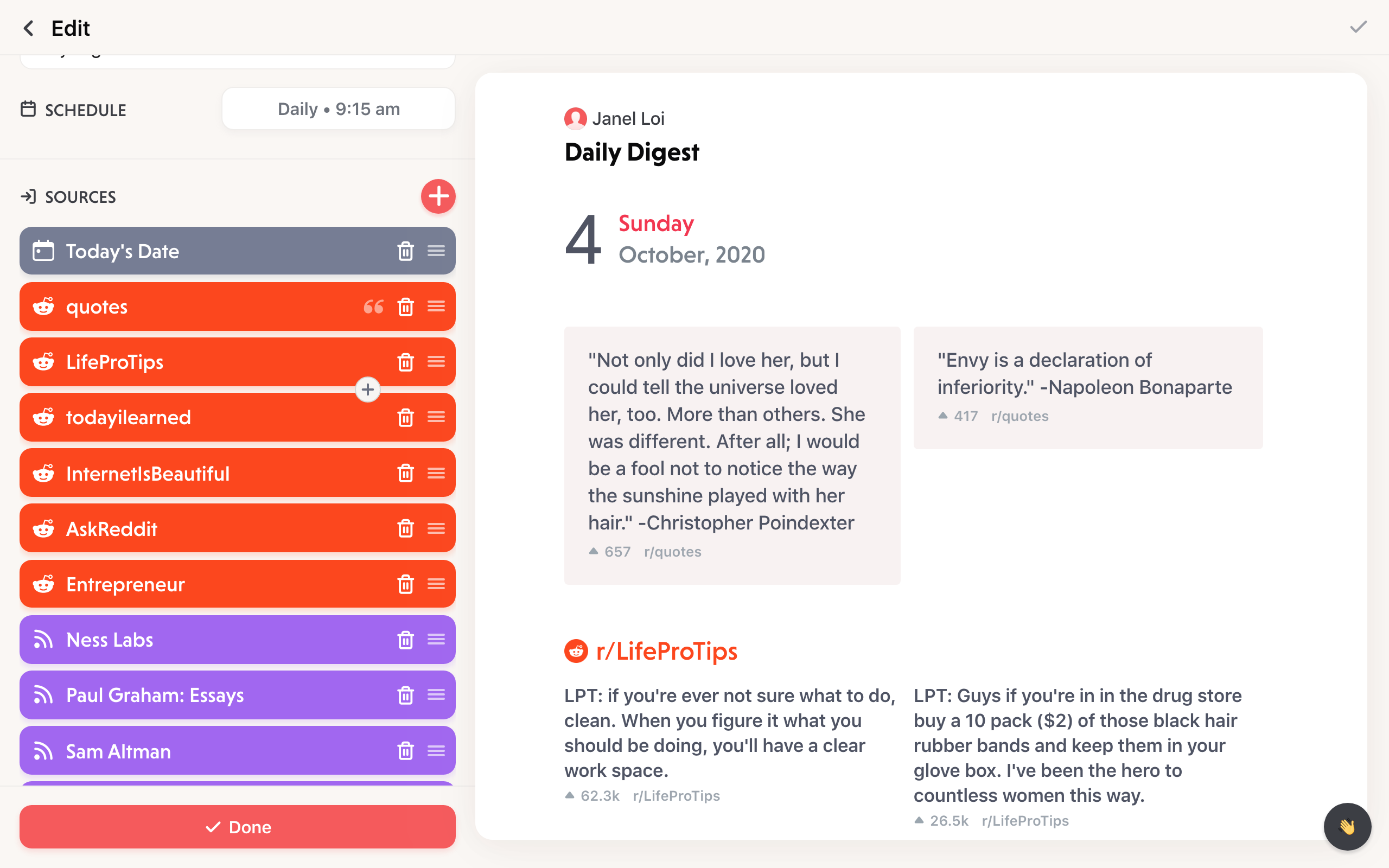 I subscribe to the RSS feeds of blogs that I love so I don't miss any new posts. I also get Mailbrew to deliver the top posts in each subreddit I follow so I don't need to click on them every day.

You can also use Mailbrew to set Google Alerts to follow specific topics.

I love this tool, it saves me so much time. If you're keen on checking Mailbrew out, I have a special discount for you via this link* (Note: links with * are affiliate)
Google Sheets
Sometimes, I just want to go super fast. When that happens, I use Sheets to curate.

I built a custom bookmarklet in Chrome (thanks to what I learned from Better Sheets*) that helps me pull the Title of the Page, URL of sites I find interesting directly into a Google Form with a timestamp. I then add comments, and categorize my finds. This helps me build a robust database that I can draw on each week.

Here's how it looks: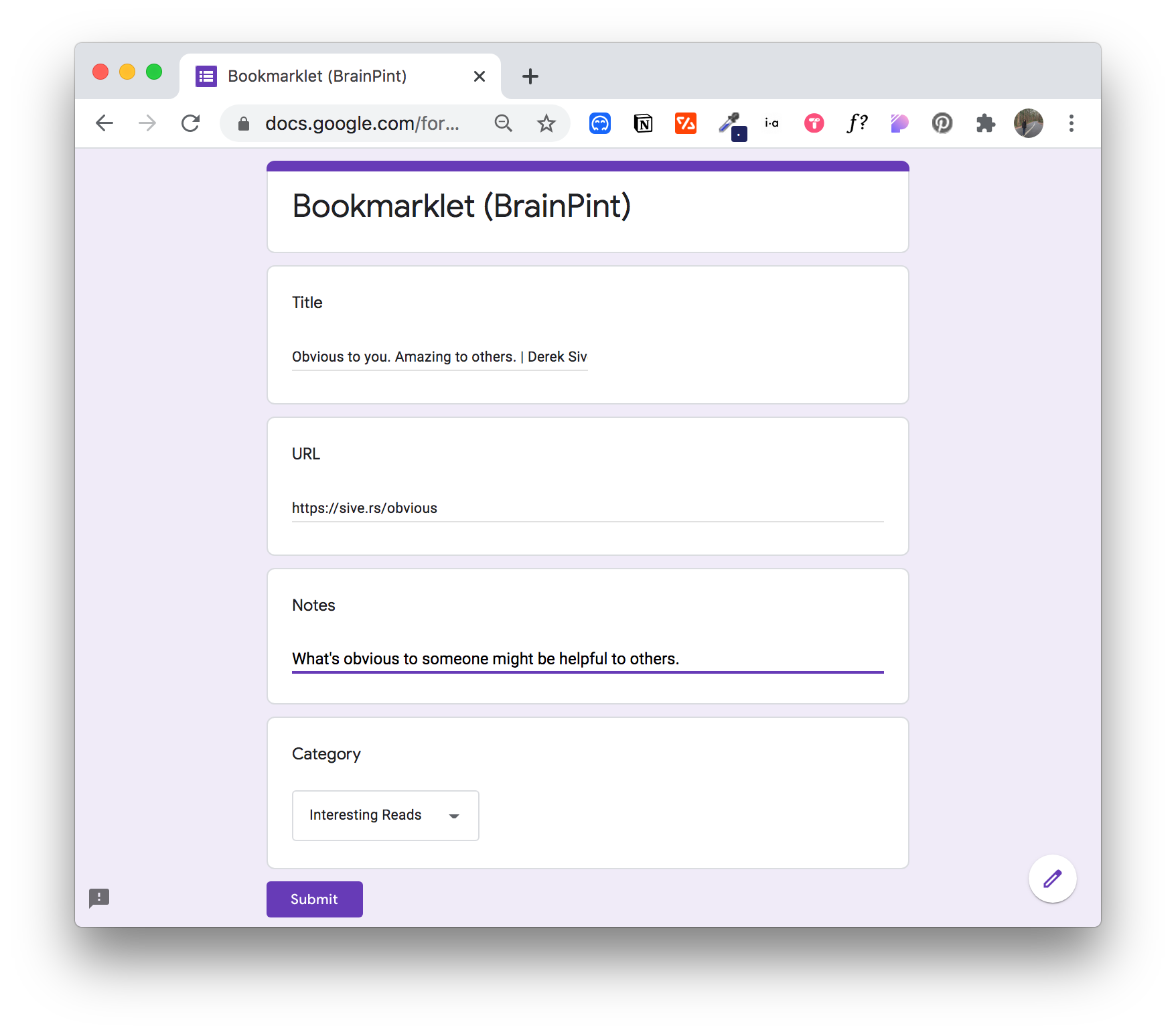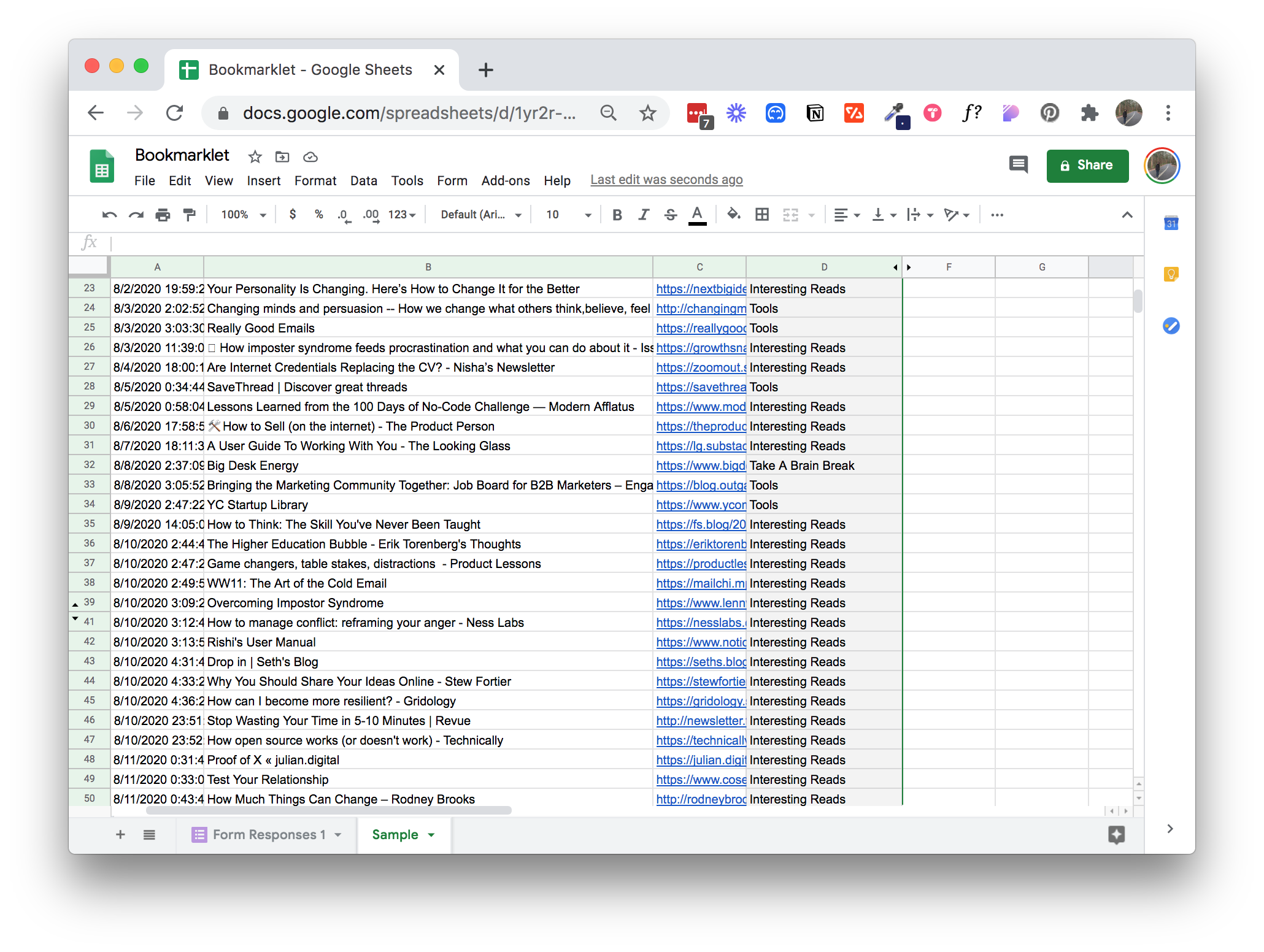 Notion
I use Notion as my newsletter's Operating System. It's where I curate, draft ideas, celebrate milestones & keep snippets of love from my subscribers. I also use it to remind myself why I write, plan content distribution and save resources / promotions that I've hunted down for the community.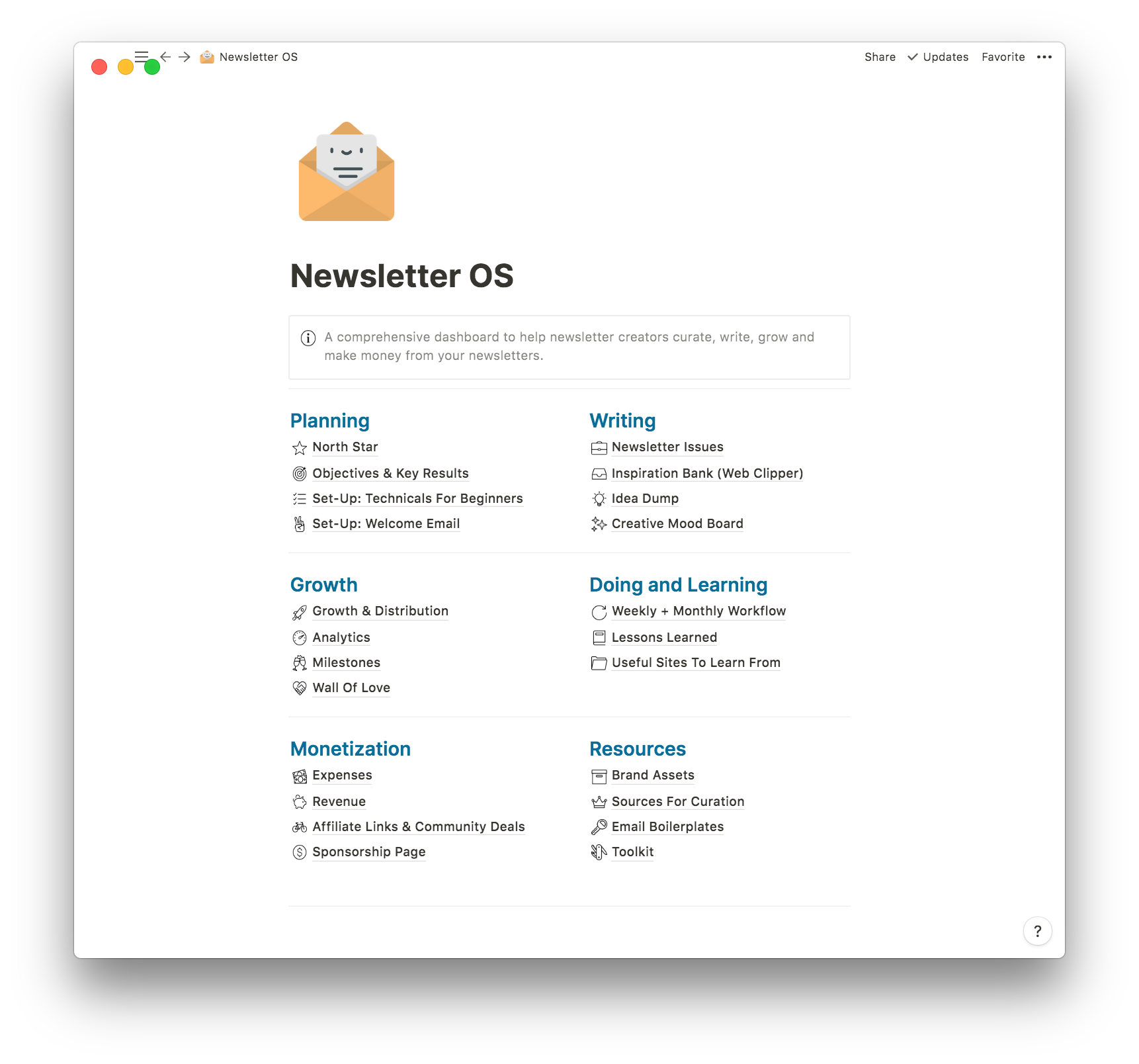 I've actually upgraded my Newsletter Operating System & made it available for purchase here, if you're keen.

Similar to how I curate using Google Sheets, I sometimes curate on Notion using the free web clipper Chrome extension.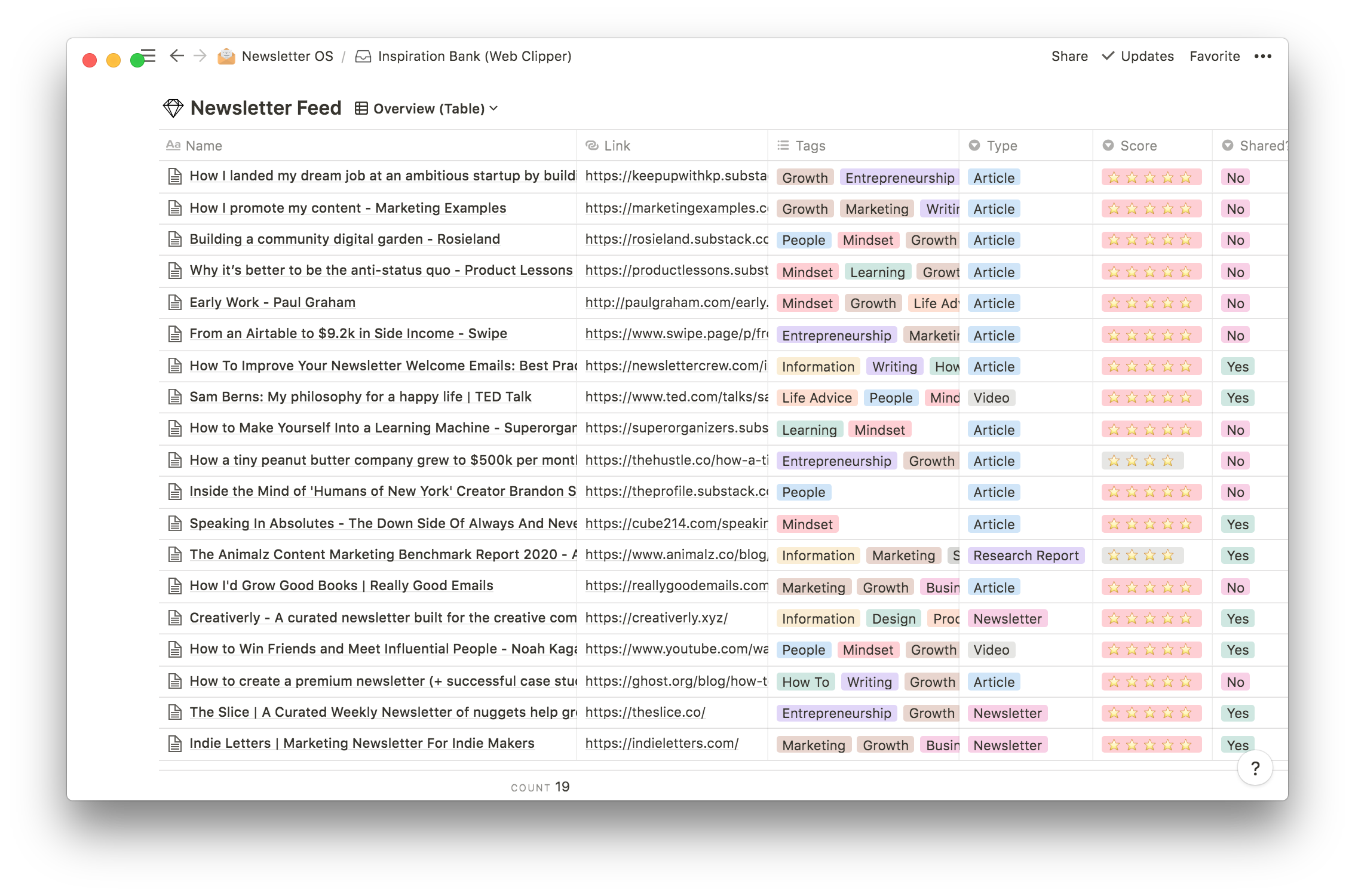 Pocket
When I'm reading things on mobile, I tend to save them to my Pocket app so I don't lose them. I actually do go back and read my saved articles!
Pulling It All Together
Curated newsletters are the mixtapes of the new Internet. My job as a curator is to handpick seemingly random pieces of content and weave them into a single issue.
My inbox was over served today. @JanelSGM's brainpint wins newsletter of the day. Love seeing curators masterfully blend multiple topics.

— lecoolchick (@lecoolchick) September 15
In fact, one of the main reasons behind starting my newsletter was to use it as a learning vehicle. Writing weekly helps bring clarity to my thoughts and enables me to find new connections between ideas.
I use MailerLite* to publish my newsletter, making use of the drag-and-drop editor to add blocks into my newsletter. I don't want to mess around in HTML for now, but might in the future.

I tend to oscillate between dragging finds from my Google Sheets / Notion into MailerLite and doing a write-up directly, and typing ideas in my Notion, then porting them over.

I always end up having to cut things out of my newsletter. They lie in a Google Doc graveyard that I call "Things that didn't make the cut". I'll share more about my writing process & tech stack in a future post.

I highly encourage writing a newsletter. I've learned so much from writing consistently for the last few months and the best part has definitely been meeting amazing, like-minded people.

Hope this has helped you if you're wondering how to curate your own newsletter.

P.S. Do check out my landing page for BrainPint or enter your email in the box below to subscribe.
---